B. E. Towers. ("Sofar Towers")

Paynter's Hill B. E. Station.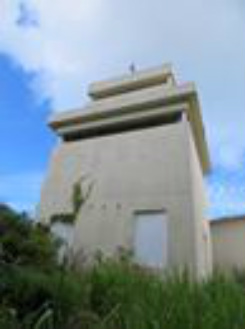 These towers were built during WWII as gunnery control towers, and have recently been referred to in facebook as the 'Sofar Towers'. There were originally 8 spread around the Island, however, when Sofar was operational there were only 3 remaining. We used them to track and plot the location of various vessels operating along the South Shore. As well as this one, there was one on Mount Hill near St. David's lighthouse and another near Gibbs Hill lighthouse. The one at Gibbs Hill has been demolished since then.


---
Posted Dec 8th 2013.
~~~~~~~~~~~~~~~~~~~~~~~~~~~~~~~~~~~~~~~~~~~~~~~~~~~~~~~~~~~~~~~~~~~~~~~~~~~~~~~
Mount Hill B. E. Station (Building #2600)

Photo taken 20th Oct 2013

As well as the work that SOFAR did, this tower was the official 'finish line' for the Newport - Bermuda yacht race.

Photo taken
20th Oct 2013.

---

---

My good froend Eugene Rayner, on the occasion of his retirement as the Chairman of the Newport/Bermuda and Marion Yacht Race's Finish Line Committee. He has served 30 years on the finish line committee, with the last 12 as Chairman. Well done, Eugene. I like this picture for two reasons - 1) because it is a great picture of Eugene, and 2) it shows the theodolite at Mount Hill (2600) very clearly!
Gibbs Hill B. E. Station ... Then and Now.
<-- Then Now-->

On the left:

The 2 'golf balls' were part of the Glotrac System (which, I believe, was part of NASA). The B.E. station was in the taller building behind the container truck. I believe this building has been knocked down, but the other building survived, and, I believe, is the one in the photo on the right. I only worked here on a couple of occasions, so the memory is a bit fuzzy. But in another manner, this station provided one very memorable day -

see here

Posted

Jan 15th 2014.
Looking for whales.